GW Bush is Welcomed Back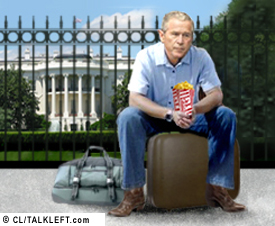 When GW Bush left office, it was "Good Riddance." We might as well have kicked him to the curb and tossed him his clothes through his White House bedroom window.
Who would have believed he's now making the rounds, with humor, and being embraced by Democrats and late night talk show hosts alike? The answer? Anyone with the prescience to know that 2016 would usher in Donald Trump, a man deemed so horrible in all his orange unsplendor by so many, Bush now evokes, if not quite nostalgia, something close. (To be clear, no one's embracing Dick Cheney or Donald Rumsfeld, just GW.)
GW Bush does seem more upbeat and less of a threat these days, but that may be because he seemed more like a puppet doing the bidding of Cheney, Rumsfeld, Rove, Libby and on and on. He was considered incompetent, but not to the extent of Trump. (The only thing I can envision that would be worse than a Trump Presidency would be a Trump-Cheney or Trump-Giuliani Presidency.)
As for Bush, I'm glad to see him happy and painting. I would have been happier if he had picked painting for a career in 2000, when his term as Governor of Texas was up, but at least I can watch him now without reaching for the remote to change the channel, which I doubt I'll ever be able to say about Cheetolini.