New Year's Eve: Cold and Colder, Open Thread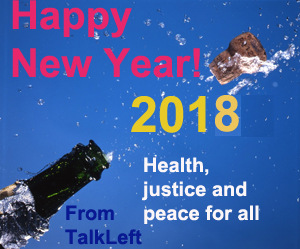 Happy New Year's Eve Everyone!
I took the week off from blogging because I was so busy at work -- and I can't stand to write about Donald Trump. This has been the worst year to be an American. There is good news: Only 1,116 days left until the 2020 election.
It's a sunny morning here in Denver, but according to to Accuweather, in 50 minutes, at 10:53 a.m., the snow will start falling.
It's crazy that people would venture out to Times Square. They are probably mostly young tourists, but where is their common sense? No bathrooms, no backpacks, no food vendors....what for? To see the same thing you can see inside your warm and toasty home or at any bar? (Which reminds me, the DUI cops will be out in force, so for those of you venturing out, don't drink and drive.)
Does anyone here have any fun plans tonight? I am staying in, writing two sentencing briefs due Tuesday and cooking a big steamy pot of chicken soup with matzoh balls.
Happy New Year Everyone! This is an open thread, all topics welcome.