Christmas Eve Open Thread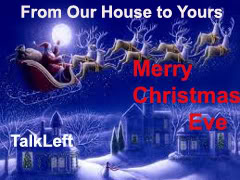 I wish all of our readers a happy holiday eve. May it be free of thoughts about Donald Trump.
If you are looking for TV, I'll suggest El Cartel I and II (called "Cartel de los Sapos")-- both seasons are now available with subtitles on Amazon Prime. It's the story of the Norte del Valle cartel in Colombia and its takedown and prosecution in the U.S., written by a former member of the cartel while in prison in Miami. It really launched the whole narco-drama series phenomenon and has terrific, now well-known actors. I've probably watched the full series three times or more. The Norte del Valle cartel was the successor to the Cali Cartel. The series is a far more accurate portrayal of real life characters and events and much better done in my opinion than American shows like Narcos which pay DEA agents to be consultants. It focuses on the corruption as well as the drug dealing.
Two Twitter feeds I'm recently added: Calorie Fixes and Tasty. Check out Tasty's five best egg hacks, you'll be a fan.
Again, Happy Xmas Eve, and please let us know what you're cooking and how you are celebrating and anything else on your mind.