New Report: Trump White House Viewed as Most Corrupt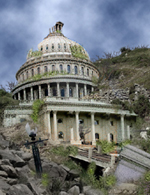 A new survey report on public perception of corruption in public institutions has been released by Transparency International, a leading non-profit organization that tracks such things.
The survey asked about the degree of corruption in nine influential groups. These included the national government (the president's office, members of congress, government officials), public officials who work at the service level (tax officials, the police, judges, local officials), and those who are not part of government but who often wield strong influence (business executives, religious leaders). Of these categories, government institutions and officials in Washington are perceived to be the most corrupt in the country. The results show that 44 per cent of Americans now say that most or all of those in the Office of the President are corrupt, up from 36 per cent who said the same last year.
The Washington Post has some analysis: [More...]