Graves of Slaughtered Coptic Christians Found, ISIS Participants Disclosed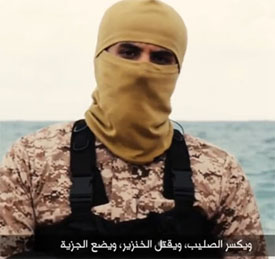 The 2015 ISIS video showing the beheadings of 21 Egyptian Coptic Christians on a beach in Sirte, Libya was one of its most brutal. It featured an English-speaking spokesman who sounded American. One of the big mysteries was his identity -- and which beach the killings occurred on.
Libya police have now identified him as Abu Amer al-Jazrawi. He is deceased. (Once again, the U.S. got it wrong, as I suggested here).
The "full details" of the slaughter seem to mostly have been supplied by detainees under interrogation. One says he was located behind the camera as it was being filmed. The story is available on the group's Facebook page, in Arabic. The translation on FB is terrible. The beach is the one behind the Mahari hotel in Sirte (the same one where 50 plus Gaddafi followers were killed in 2011.)
Yesterday, prosecutor's office in Libya announced that detained ISIS members disclosed the location of the graves and details of the massacre. They were arrested the last week. Authorities went to the site and uncovered the bodies.[More...]