Trump Channels Nancy Reagan in Drug Speech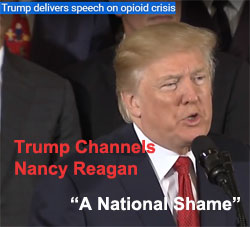 Donald and Melania Trump gave speeches today on the Opioid crisis. I watched and listened to it. You can read the transcript here. The White House Press Release is here. Donald Trump sounded just like Nancy Reagan and her "Just Say No" campaign. He's going to create an advertising campaign to tell kids how bad drugs are and not to use them.
He's going to fund law enforcement programs. (Anyone remember "DARE"? These programs don't work.
He's going to limit prescriptions to 7 days supply. One unnamed opioid will be removed from the approved drug list and become illegal.
He said this will take years if not decades (I guess so he can't be blamed when there's no huge reduction of overdose deaths during his term.)
He talked about his brother Fred, who told him over and over, don't drink, don't smoke and he listened. That's his plan for kids, just tell them don't do it. [More...]