Tom DeLay's Conviction Overturned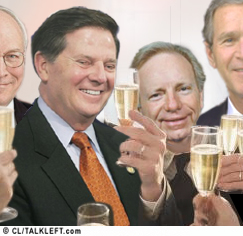 The Texas 3rd Court of Appeals has reversed the conviction of Former Congressman Tom DeLay for money laundering and conspiracy, finding the evidence insufficient to convict him. The reversal is an acquittal which means he cannot be retried. Nor will he have to serve his three year prison sentence.
An overview of his case from 2010 is here. Here's a Today Show video where he and his excellent trial lawyer, Dick DeGuerin, discuss the case.
Dick DeGuerin always predicted DeLay would never spend a night in jail. [More...]