VA Gov Restores Scooter Libby's Civil Rights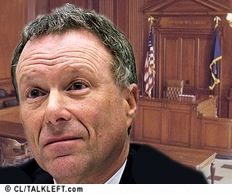 Scooter Libby can vote again. The Governor of Virginia's list of pardons, clemencies and restoration of rights for 2012 is contained in this report of the Virginia legislature, released Feb. 23. Libby's rights were restored in November, 2012.
Virginia's rules for restoration or rights are here.
Libby's prison sentence was commuted by then President G.W. Bush in 2007, hours after his request for an appeal bond was denied by the Court of Appeals, meaning he'd have to go to prison while waiting for the appeal decision. Many people, myself included, saw the commutation as total disrespect for the law. [More....]