Life Without Parole vs. Death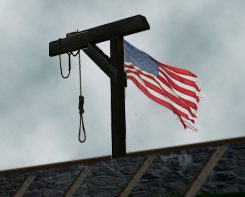 Here's one the reasons Mark Geragos argued to the jury in the Scott Peterson death penalty trial that it should return a verdict of life without parole instead of death. The full transcript is here.

Prison is an awful, awful place. Scott Peterson, if you vote to spare his life, will be placed into a cell that is roughly the size of a king size bed. Roughly encompasses you four jurors right here. That's the size of his cell. And he would be in that cell roughly the size of a king size bed for the rest of his life. He will die in that cell.
Scott Peterson in that cell will have a bed to lay on, and he will have a cold metal toilet, and he will share that cell with a friend. That friend will be his cellmate. That may change.

[More...]

And he will stay in that cell every single day until he dies. And while he's in that cell every single day until he dies, knows that at any time, if he tries to leave to go out for a half an hour, for fifteen minutes, to go exercise, or go to the shower, that he's going to have to look over his shoulder at all times. That he's going to be a marked man. That he's going to be in danger at any moment of some other inmate administering the death penalty to him on the spot, because he will be biggest target in any prison where he gets placed, whether it's Pelican Bay, whether it's Mule Creek, wherever he goes. It's not some kind of a country club.
This is not a minimum security facility. He will be at the highest Level 4 of the California Department of Corrections every day for the rest of his life. And one of those days some guard is going to walk by, and some guard when he walks by six months from now, or a year from now, is going to knock on the cell and say, Peterson, your mom is dead. And a year after that, six months after that, another guard is going to walk by and bang on the door. Peterson, your dad is dead. Six months, a year after that, five years, ten years after that, your brother John is dead. He's not going to be out there enjoying anything. It's not any kind of a picnic for him.
I'm not asking you to do anything but cherish the fact, cherish the idea, that there does not need to be any more death in this case.....
The fact of the matter is, is if you think Scott Peterson did this crime, [if] you think that there [are] two Scotts, both of those Scotts are going to be put into a cell and left there to die until he does. There is no alternative. He's not coming out. Nobody gets out when it's life without parole. The judge instructed you as to that. There is not going to be, the alternative is that you strap him on to a gurney at some point and you stick a needle in his arm, and you inject poisons, and you put him to death like you would a dog. That's the alternative.

Later on in his argument:

I'm not asking you to nullify the death penalty. I'm not asking you to abolish the death penalty. I'm asking you to take a look at the mitigating factors, asking you to take a look at the aggravating factors. I'm asking you, I'm begging, really. I'd get down on my knees if it wouldn't look so contrived. I would do whatever it takes to beg you to not, to not put Scott Peterson to death.
Scott Peterson, the guy that I have sat next to, that I have invested, invested all this time, one who for eight years, by all accounts, seven years by all accounts, loved Laci and cared for Laci, the Scott Peterson whose mother, as you saw, it would destroy. His father who, as you saw, it would destroy. Whose extended family, as you saw, would be destroyed. And to what end? What is that going to do for us? What, at the end of the day, does killing him, does putting him down, as opposed to letting him stay in a cell the size of a king size mattress, what benefit? How do we revenge anything? What do we do there?
And, at the same time, what does that do for the Rochas? How does that help Sharon? How does that help Ron Grantski? Or how does that help Brent or Amy? How does that idea of sticking a needle in his arm, strapping him on to a gurney and killing him, how is that going to help you? None of this is going to.
This is the most awful situation you can even imagine. None of this is going to bring back Laci. None of this is going to bring back Conner. Even if you believed that he did this horrendous act, which you must in order to convict him, even if you believed that, there is nothing, nothing that putting him to death is going to do except just cause more ripples in this case, turn this into a riptide.
....So all that's being asked of you is to punish him with life without parole and just not kill him. That's all I'm asking is just don't kill him. End this cycle now. There is no reason to put him to death. The law does not require it. In fact, the law is the opposite. The law is, is that he should receive life without. To kill him at this point serves absolutely no purpose.
...You are not forced to come to a unanimous decision. [The Judge] is never going to tell you that you must come to a unanimous decision of death in this case, ever. All he's going to tell you is that each one of you, each one of you has sworn an oath to give the law and the facts your consideration. If you believe, as I'm begging you to, that this is a life worth saving, all I'm asking for is you to hang on and vote for life.
There is nothing that requires unanimity here. There is nothing that requires that you vote death. In fact, I humbly, humbly submit to you that the law requires, based on all of this, that you vote for life.
.... I'm going to give this decision over to you and pray and hope that this, which is obviously the biggest decision that anybody could ever be given, the most profound decision that anybody could ever have to do, and that you will do what I consider to be the right thing, which is not to kill, and perpetuate the whole new generation of victims, and ... [not]to commit an act that is irreversible, irrevocable, but to give some measure of compassion and mercy or sympathy to Scott, to his family.... and I think in a strange way the Rochas.

If you've forgotten the details of Scott's case, you can access all the pleadings, orders and transcripts here.
Scott's 470 page appeal brief, filed this week, is available here.
Why did this jury return a death sentence? Read the appeals brief section on how the jury was selected and how people who opposed the death penalty on principle were excluded without even being asked whether they could put their views aside and follow the law. California's voir dire rules in capital cases seem to be in conflict with decisions of the U.S. Supreme Court. See the section on the brief starting on page 72. Here are the court minute orders on juror selection , showing which jurors were excused for reasons related to the death penalty (scroll down to March 22, 2004.)
It's bad enough that jurors must be death-qualified to sit on a capital jury -- they should be life-qualified -- the test should be whether they could impose a life sentence even if they find the defendant guilty. Voir dire should allow the defense the opportunity to question prospective jurors and select ones they think will listen to their mitigation evidence and reach within themselves to a find a reason to save their client's life, no matter how heinous the crime.
While the U.S. hasn't reached that stage yet, and possibly never will, California's rules and the process used in Scott Peterson's case, do not seem to me to comport with what the Supreme Court says is required by our Constitution.
In 1985, in Wainwright v. Witt (1985), the Supreme Court said jurors in capital cases should be disqualified only if they hold beliefs which would "substantially impair" their ability to follow the law in deciding between between life and death. (Until then the test was even stronger: In 1968, in Witherspoon v. Illinois, the Supreme Court held the Constitution only allows jurors to be excluded if they make it "unmistakably clear" they would "automatically" vote for life over death or would not be able to judge guilt or innocence impartially.)
California law and the process used in Scott Peterson's trial, in which many prospective jurors were dismissed based solely on their questionnaires (see p. 19) in which they stated they opposed capital punishment, without questioning them further on whether they could put those views aside and determine the sentence based on the law as instructed by the judge, seem to violate even the relaxed standard of Wainwright v Witt.
Nor is it harmless error. In Gray v. Mississippi, the Supreme Court found that the State exercised its peremptory challenges to remove all prospective jurors who expressed any degree of hesitation against the death penalty. It held:
Because the Witherspoon-Witt standard is rooted in the constitutional right to an impartial jury, Wainwright v. Witt,...and because the impartiality of the adjudicator goes to the very integrity of the legal system, the Chapman harmless-error analysis cannot apply. We have recognized that "some constitutional rights [are] so basic to a fair trial that their infraction can never be treated as harmless error." Chapman v. California,... The right to an impartial adjudicator, be it judge or jury, is such a right. ... As was stated in Witherspoon, a capital defendant's constitutional right not to be sentenced by a "tribunal organized to return a verdict of death" surely equates with a criminal defendant's right not to have his culpability determined by a "tribunal ' organized to convict.'
While the Supreme Court upheld death-qualified juries in Lockhart v. McCree, it also said:
[A] defendant convicted by [a death-qualified] jury in some future case might still attempt to establish that the jury was less than neutral with respect to guilt . . . [and if] he were to succeed . . . the question would then arise whether the State's interest in submitting the penalty issue to a jury capable of imposing capital punishment may be vindicated at the expense of the defendant's interest in a completely fair determination of guilt or innocence . . .
Studies have shown that jurors who are death-qualified for the guilt-phase are more likely to convict at the guilt phase.
One means of avoiding this would be to have separate juries for the guilt and penalty phase. Scott Peterson's attorney made the request, but it was denied, even though California law allows for it. (Sec. 190.4©.)
In the words of Former Justice John Paul Stevens:
The brutal facts of many capital cases "cry out for retribution," he argued, making it "extremely difficult for jurors to resolve doubts in favor of permitting a possible perpetrator of a heinous crime to go free." Most judges who preside at capital trials are elected, creating a "subtle bias in favor of death" -- since it's hard to face reelection having given a break to a killer. The jury selection process does the same. Prosecutors question jurors at length about their willingness to impose death; this creates an imbalance in juries, when prosecutors strike those with anxiety about capital punishment, and it creates an atmosphere "in which jurors are likely to assume that their primary task is to determine the penalty for a presumptively guilty defendant."
Also in that speech:
Finally, he pointed to the role of statements by victims on the impact of crimes -- statements that shed "absolutely no light on either the issue of guilt or innocence or the moral culpability of the defendant" yet can sway jurors "on the basis of their emotions rather than their reason."
I haven't studied the guilt phase issues in Scott Peterson's case in many years. But it seems to me the death verdict cannot stand, based on the questionnaire issue alone.
California voters have a chance to abolish the death penalty in November. The bill is the SAFE Initiative To Abolish Death Penalty. A former California Attorney General and District Attorney on Los Angeles explains his support for the bill :
I have seen the continuous drain on resources that a capital case carries: more state money for prosecutors prosecuting and those defending these time-intensive cases; single-cell jail space for inmates; special security; years and years of appeals; and more, all for 13 executions in 30 years with more than 700 now on death row....California has spent $4 billion on the death penalty since 1978.

Overall, the death penalty doesn't make us safer – better crime-solving can do that. I was recently inducted into the California Forensic Science Institute's Hall of Fame for my work in advancing forensic science tools such as our state's DNA database, which helps us find the guilty and exonerate the innocent. SAFE California will provide public protection by keeping those truly guilty of death penalty crimes locked up for life, and in the meantime saving us millions of dollars that will be invested in crime-fighting measures leading to the apprehension of serious criminals.
Our prior coverage of Scott Peterson's case since 2003 is assembled here.
The death penalty is nothing more than "an eye for an eye." As Mahatma Gandhi and Martin Luther King said, "An eye for an eye leaves the whole world blind." As many others have said about lethal injection, "You wouldn't do a dog this way."