9th Circuit Rules John Yoo has Immunity in Torture Suits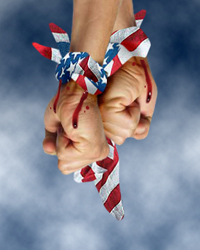 The 9th Circuit Court of Appeals has reversed a district court ruling that the lawsuit filed by former detainee Jose Padilla can proceed against Bush Administration official John Yoo, who authored the infamous torture memos.
The memos authorized CIA interrogators to use waterboarding, keep detainees naked, hold them in painful standing positions and keep them in the cold for long periods of time. Other techniques included depriving them of solid food and slapping them. Sleep deprivation, prolonged shackling and threats to a detainee's family were also used.
[More...]