Sanford Police Release Full Camera Surveillance Video
The Sanford Police have released the full, six minute camera surveillance video of George Zimmerman's arrival at the police department.
MSNBC reports the video was taken four hours after the shooting. Also:
In the video, there are no readily visible signs of injuries to Zimmerman's head or blood on his clothes. However, he is wearing a red jacket, which could obscure blood stains. Also, at one point, an officer pauses to look at the back of Zimmerman's head, which he claims was injured by Martin.

Appearing on NBC's TODAY on Thursday, Zimmerman's attorney Craig Sonner described the video as "very grainy." He also pointed out that Zimmerman had been "cleaned-up" and received first aid in the four hours between the incident and Zimmerman's videotaped arrival at the police station.
Update
: USA Today says the video
shows it was taken at 7:52 pm
, 35 minutes after the shooting. [More...]
The police security camera video shows Zimmerman exiting a patrol car and entering the Sanford Police Department. It begins at 7:52 p.m., about 35 minutes after the fatal shooting. Shots of Zimmerman's head and face reveal no obvious cuts or gashes, but at one point, a police officer inspects the back of his head.
This video
screengrab handed out by Reuters
says 7:52 pm.(Police arrived on scene at 7:19 p.m. at which time Trayvon was dead.)
Here's the police version of the video and it does have a timestamp in very tiny print at the bottom:
Update: As for no injuries, here's a screengrab from the ABC news video. What's wrong with the back of his head? It looks like his hair is gone and there's a knobby bump. I cropped that part and increased the contrast a bit.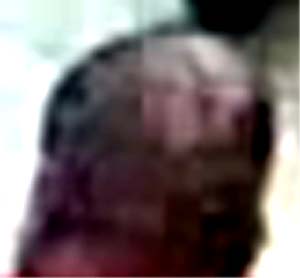 His nose doesn't look right either.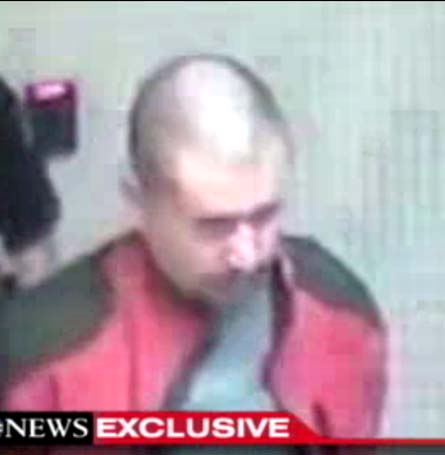 Here's a comparison:
Does this tell us what happened? No. But it does tell us the video doesn't resolve anything and is only a piece of the story.
On a related topic, here's a good description of the techniques used and court admissibility of forensic voice analysis, from experts I have used in the past.
Before commenting, keep in mind this is a criminal defense-oriented website and comments declaring George Zimmerman is guilty are not welcome here and likely will be deleted.
Comments with factual misrepresentations will also be deleted. I do not want this site used to spread misinformation.
This thread is now closed.