Labor Day Open Thread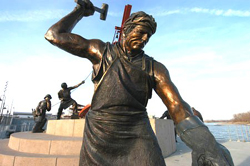 This is a photo I took of the Monument to Labor sculpture in Omaha, Nebraska, by Matthew Placzek. (larger version here.) It's a tribute to the workers in the labor unions that helped build Omaha and is the second largest labor memorial in the country.
Here's a brief primer on Labor Day.
Have a great holiday, this is an open thread, all topics welcome.