R.I.P. Troy Davis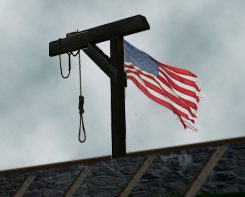 Troy Davis was executed at 11:08 pm ET.
This execution was a grievous wrong. Rest in Peace, Troy Davis.
Let the dialogue continue. America needs to end state-sanctioned killings.[More...]
Tonight reminded me of the
2000 execution of Gary Graham
in Texas. The crowds swelled at the prison, the celebrities showed up and CNN and other stations were fixated all night with live updates. And then in an instant, it was over, Graham was dead.
Graham's case has prompted the loudest protests since convicted pickax killer Karla Faye Tucker was executed in 1998, the first woman put to death in Texas since the Civil War era. Death penalty opponents have adopted Graham's claims of innocence and his contention that he was convicted unfairly, primarily because of testimony from a single eyewitness.

''The Gary Graham case is significant because if he is executed ... he will be the case that will be the most frail, the weakest evidence to justify any execution in the past 27 years,'' said Lawrence Marshall, legal director of the Center on Wrongful Convictions at Northwestern University School of Law.
The New York Times wrote four editorials in four days on Graham's case.
6/23/2000...Irreversible Error in Texas...New York Times Editorial
If there is one area in the American legal system where even a single error cannot be tolerated, it is the administration of capital punishment. This page has long opposed the death penalty on the grounds that it is morally wrong and also unconstitutional as being cruel and unusual. But even on procedural grounds the penalty is hard to defend. The way it is meted out in this country is so grossly arbitrary, so racially unfair and so full of legal mistakes that there is no way to ensure that innocent people will be spared.
6/22/2000..
Decision Time on Gary Graham
...New York Times Editorial
We seldom comment two days in a row on the same subject, but the case of Gary Graham, who is scheduled to die by lethal injection at 6 p.m. today in Texas, merits concentrated attention....It is not asking too much to insist on a fair hearing, especially when a life is at risk. Perhaps at the 11th hour Governor Bush can demonstrate the leadership that has been missing so far in this case.
6/21/2000..
Due Process, Texas Style
...New York Times Editorial
Recent developments in the case of Gary Graham, a death row inmate in Texas who is scheduled to die by lethal injection tomorrow afternoon, reinforce qualms about his murder conviction -- and the duty of Gov. George W. Bush and the state pardons board to prevent injustice.
6/19/2000..
Death Penalty Troubles in Texas
...New York Times Editorial
...Nothing prevents Mr. Bush from exercising leadership by urging the state's board of pardons to slow things down and conduct the careful review of the evidence in Gary Graham's case that the courts failed to provide.
How depressing that 11 years later, we're still having the same discussions, and so little has changed.