Schapelle Corby: New Investigative Report Alleges Australian Corruption
The Expendable Project has released "The Transit Report" with previously unreleased documents and new evidence, about Schapelle Corby, who continues to languish in an Indonesian prison due to a 20 year sentence for importing 4.2 kilos of marijuana into Bali, a charge she has always vehemently denied.
The movie and project, a global effort by Hidden World Research Group and Hidden World Films, was originally scheduled for release six months from now. On September 7, it announced it would start publishing now, because of credible information that Schapelle tried to commit suicide via a drug overdose just before her birthday in July. News reports say she's rapidly deteriorating. [More...]
About the Transit Report:
This report examines Schapelle Corby's fateful trip on 8th October 2004, and the events directly surrounding it. It reveals significant new evidence with respect to Schapelle Corby's luggage, including that it was checked-in underweight but was subsequently recorded as 5kg overweight on the Qantas system, and that the boogie-board bag was the only item not scanned at Sydney airport. It shows that the Australian government withheld critical evidence from the Bali court, and directly misled Parliament, and the media.

It studies the route of the bag from Brisbane to Bali, and examines all relevant evidence, much of it never previously considered.
The Expendable Project concludes Schapelle was a political sacrifice by the Australian Government. What were they hiding?
Security at Sydney and other Australian airports remained severely and dangerously compromised...[and] systemic corruption within Australian polices agencies, particularly in Sydney....AFP corruption actually extended to drug syndication, and worse still, drug syndication through both Sydney airports.
The Expendable Project puts the blame on Australia's Government.
The Australian government, directly, and through its departments and agencies, acted against Schapelle Corby's interests with increasing vigour. The degree of orchestration of government departments was unprecedented.
How?
[The report] identifies a multitude of corrupt acts, including the wilful withholding of vital evidence from the Bali court, and a premeditated web of lies presented to the Australian Parliament and media. It exposes a government sacrificing the life and human rights of an innocent citizen, for political expediency and self interest.
The first set of Case exhibits, including cables e-mails and correspondence, were just released a few minutes ago. Set 2 is coming soon.
Expendable has also posted a collection of documents relevant to the case here. New releases will be announced via their twitter feed here.
Other sites following Schapelle: SchapelleGate; SchapelleNet; Schapelle Corby: An Introduction; Women for Schapelle; Artists for Schapelle; and on Facebook, People for Schapelle Corby.
I'm not willing to give Indonesia a pass and put all the blame on Australia. I listened to the two hour reading of the verdict live in 2005 and was appalled. The judges acknowledged she had no prior involvement, her actions were not consistent with those of a drug smuggler and the prosecution had brought no witnesses with direct evidence of her involvement. They convicted her anyway. Why? Shorter version: She must be convicted because drugs are a menace to Indonesia and police are more credible than civilians.
Schapelle has had a clemency petition pending for 18 months. All Indonesia has to do is grant it.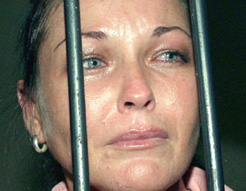 There are beautiful beaches all over the world. There's no reason to give your tourism dollars to a country that either kills drug offenders or imprisons them for decades.
All of TalkLeft's coverage of Schapelle (35 posts since 2005) is accessible here.