House Rejects Extending Three Patriot Act Provisions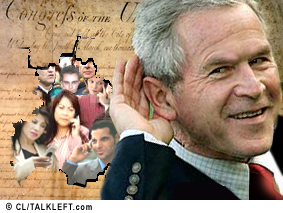 Tea Partiers helped defeat a House Bill to extend three controversial provisions of the Patriot Act until December. The provisions expire next month:
The Patriot Act bill would have renewed the authority for court-approved roving wiretaps that permit surveillance on multiple phones. Also addressed was Section 215, the so-called library records provision, which gives the FBI court-approved access to "any tangible thing" relevant to a terrorism investigation.

The third deals with the "lone-wolf" provision of a 2004 anti-terror law that permits secret intelligence surveillance of non-U.S. people not known to be affiliated with a specific terror organization.
Obama sought a three year extension. Senate Republicans want to make them permanent. It is likely to be a temporary victory:
Republican leaders will bring the bill back to the floor under a rule, where it will almost certainly secure the 218-vote threshold.