"Bali Boy" Avoids Prison, 10 Days More to Serve
A judge in Bali has sentenced the 14 year old Bali Boy caught purchasing $25 of marijuana to two months in prison. With the 7 weeks he has already served since October, he can return to Australia on Dec. 4. (Background here.)
He will not go to notorious Kerobokan prison, but stay in the "immigration facility" he's been held at since his transfer there from the police jail.
...the judge gave the boy's legal team a week to decide whether or not to appeal. That cut-off comes, conveniently, next Friday. The lawyers will wait until the last moment and then inform the court they will not appeal.

The youth will then have two days left to serve in prison but, because it will be the weekend, he won't be moved from the immigration centre where he has stayed with his parents for more than a month. It is understood prosecutors will not appeal the verdict and the boy will fly home next Sunday.
[More...]
In handing down the sentence, the Judge noted that a sentence to rehabilitation would have required the boy to get treatment in Indonesia, delaying his return home.
Prosecutors has asked for three months, which the Judge said was too much. He also acknowledged how the case had tarnished Bali's reputation as a tourist attraction. However, he blamed that on the boy rather than Indonesia's draconian laws:
"But what makes it heavier is that his action gave a negative image to Bali as a tourist destination," the judge said.

"Our aim in criminalising this (case) is not for revenge but it should serve as a deterrent for others not to follow his actions."
Another factor in sentencing: The judge's concern the parents would sue Indonesia:
Judge Simanjuntak said he was required to give the boy a prison sentence because he had already served time in custody and it was possible that his family could seek compensation from Indonesia if he was released with no charge.
The judge was right about Bali's negative image. But that's unlikely to change with the Bali Boy's sentence. There are 58 Australians like Schapelle Corby in Indonesian prisons, some facing the death penalty.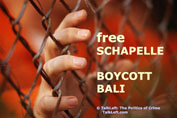 Boycott Bali. There are beautiful beaches all over the world. There's no good reason to give your tourist dollars to a country that jails 14 year olds for pot and has no decent juvenile prison, sentences first time offenders like Schapelle Corby to 20 years for 4 kilos of pot and executes drug traffickers.