Rumsfeld to Bush: "I Don't Do Detainees"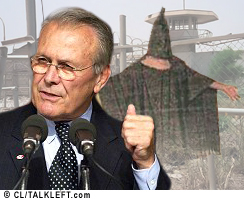 Condoleeza Rice has written a 734 page memoir of her time in the Bush Administration (first as National Security Adviser and then as Secretary of State.) The New York Times has an advance copy. It says she recounts her clashes with Dick Cheney, Alberto Gonzales and Rumsfeld. Rice describes the meeting with Cheney and Bush where Bush decided to move Khalid Sheikh Mohammed from an overseas secret prison to Guantanamo. As to Rumsfeld:
Ms. Rice writes that he tried to avoid such issues, at one point marching out of a meeting and saying, "I don't do detainees." [More...]
I wonder how Rice will portray her role in Ghost Air. Especially with respect to the detainees who were held and tortured only to later be freed because they were victims of misidentification. Like German shoe salesman Khalid al-Masri. After being plucked off the street in Macedonia while on vacation,
[Al-Masri was ]flown to Afghanistan, where at a U.S. prison facility he was shackled, repeatedly punched and questioned about extremists at his mosque in Ulm, Germany. Finally released months later, the still-mystified Masri was deposited on a deserted road leading into Macedonia, where he brokenly tried to describe his nightmarish odyssey to a border guard. "The man was laughing at me," Masri told The New York Times, which disclosed his story last month. "He said: 'Don't tell that story to anyone because no one will believe it. Everyone will laugh'."
It was Rice who, after five months in CIA detention at an overseas prison, ordered him freed, which showed the White House was deeply involved in the CIA rendition and detention program. As the New York Times said:
Ms. Rice's involvement suggests that the White House may have played a more hands-on role than was previously known. The officials who discussed the matter on Friday suggested that she had intervened as needed, but would not describe the extent to which national security officials at the White House were in charge.
Officials said al-Masri was a case of misidentification:
Authorities believed he was a member of Al Qaeda who had trained at one of Osama bin Laden's camps in Afghanistan. But within several months they concluded he was the victim of mistaken identity, the officials said. His name was similar to a Qaeda suspect on an international watch list of possible terrorist operatives, they said.
Al-Masri's later lawsuit against George Tenet and others was dismissed on the basis of the state secrets privilege, a ruling the 4th Circuit upheld.
The Times reports Rice does express some regrets in her book:
Ms. Rice offers several regrets. The way Mr. Bush rejected the Kyoto climate change treaty without promising to seek alternatives was a "self-inflicted wound," she concludes, while her New York shopping trip during Hurricane Katrina was "tone deaf" for the nation's highest-ranking African-American.
That shopping trip
would have been tone-deaf for any official.