AZ Immigration Protests Set for Tomorrow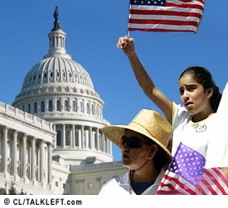 It may be a holiday weekend, but there's little to celebrate with Arizona's immigration law. Protests will be held in 60 cities across the country.
The protest in Phoenix, to include a five mile march to the state capitol, is expected to draw 50,000. I'll bet it's a lot higher. Sports fans are being asked to boycott some games.
The San Francisco Giants are also hosting a weekend series against the Arizona Diamondbacks, and activists are planning to protest outside AT&T Park Friday night and Saturday.
Today, DOJ filed a petition with the Supreme Court asking it to find that federal law trumps Arizona's Employers' Sanctions law. [More...]