Schapelle Corby Files Clemency Bid, Australia Will Support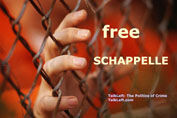 Schapelle Corby, imprisoned in Indonesia for 20 years after being convicted of smuggling 4 kilos of marijuana into Bali, has filed a clemency petition with the Indonesian Government which alleges, as has been reported many times the past few years, she has gone insane.
Finally, the Australian Government is supporting her:
A spokesman for Foreign Affairs Minister Stephen Smith said yesterday that Canberra would support "any application by Ms Corby for clemency".

"I have made that clear to Ms Corby's family," he said. "[However] it is important to bear in mind that the decision to grant clemency is for the President of Indonesia."
It's long past time to send Shapelle home. Our prior coverage since the time of her arrest in 2005 is assembled here.