Commercializing the Oklahoma City Bombing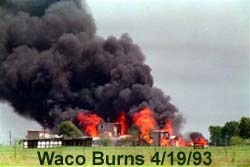 Some of you undoubtedly are watching the McVeigh Tapes tonight on MSNBC. They will have a computer generated character, who in their view bears a physical resemblance to Timothy McVeigh, so you have something to look at as they play the audio of tapes made during interviews he granted to the two reporters who wrote the book, American Terrorist.
Since I was one of McVeigh's trial lawyers, I obviously have my own opinions about why he chose to speak to the reporters and what his objectives were -- and how much of what he told them was accurate.
The reason I doubt I'll like Maddow's show is the attempt to politicize it and tie McVeigh to current times and the anti-government feelings some are expressing. There is no connection. And it's long past time to put the conspiracy theories to rest. [More...]