House Votes to Block Civilian Trials of Guantanamo Detainees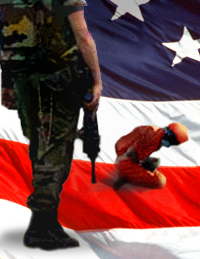 The House of Representatives tonight approved an add-on to the budget bill preventing Guantanamo detainees from being transferred to the U.S. for trial:
In a setback for President Barack Obama, Democrats still controlling the House have approved legislation to prevent alleged 9/11 mastermine Khalid Sheik Mohammed and other detainees at the military prison at Guantánamo Bay from being transferred to the U.S. for trials in criminal courts.

The Guantánamo ban was included in a huge catchall spending bill that passed the House Wednesday by a 212-206 vote. The Senate has yet to act on the legislation, which would further imperil Obama's effort to close the detention center for terrorist suspects.
Currently, the law prevents detainees from being transferred and released, not transferred and tried. If passed by the Senate, the ban will be in effect until September 30, 2011, the end of the fiscal year.