Latino Vote Critical for Bennet in Colorado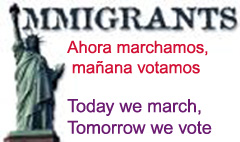 Via Colorado Independent:
Eighty-one percent of Latino voters in Colorado voted for Democratic Sen. Michael Bennet. Split the Latino vote down the middle between Bennet and Republican Ken Buck and Buck wins easily. Even if Buck had only received 30 percent of the Latino vote, he would have won the election.
Results here, from Latino Decision which reports 10% of Colorado voters are Latino. [More...]
How the Latino contribution is calculated:
Note: Latino contribution is the net amount Latino votes contributed to the overall margin for the winning candidate. It is calculated by taking the partisan vote advantage for one candidate (i.e. 81% to 19% = partisan advantage of +62) and multiplying it by the Latino share of the electorate. If Latinos provide Bennet with a +62 vote advantage, and comprise 10% of the electorate, that translates into a net contribution of 6.2 points towards Bennet's overall margin.
Colorado wasn't the only state Latiino voters made a difference. See Markos at Daily Kos, California, Colorado, Nevada Latinos crush GOP.