Report on David Headley and Pakistani Military Officials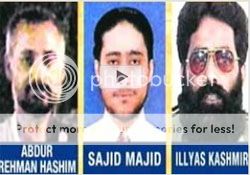 Pro Publica and the Washington Post have a new report on the Mumbai bombings of 2008, focusing on Sajid Mir, aka Sajid Majid, who allegedly was put in charge of the attacks by Lashkar-i-Taiba. A second installment will be published tomorrow. According to the report, Mir trained David Coleman Headley for two years prior to the attack, and both active and retired Pakistani military officials were involved.
Mir and his victims are at the center of a wrenching national security dilemma confronting the Obama administration. The question, simply put, is whether the larger interests of the United States in maintaining good relations with Pakistan will permit Mir and other suspects to get away with one of the most devastating terrorist attacks in recent history.
[More...]