Supreme Court Lifts Stay in Landrigan Exeuction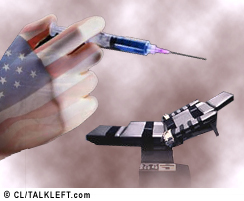 The Supreme Court tonight vacated the stay of execution an Arizona federal judge issued yesterday in the case of Jeffrey Landrigan. Landrigan was scheduled to be executed this morning using sodium thiopental that was manufactured by a company outside the U.S. which was not an FDA approved manufacturer of the drug.
Arizona appealed to the 9th Circuit, did not prevail, and the matter was referred to the full court later today. Justices Kagan, Sotomayor, and Bryer would have denied the state's request and kept the stay in place.
Arizona authorities are preparing the execution chamber now, so they can kill him within the 34 hour period set by the death warrant.
Here's what the order says (received by email, no link): [More...]