Latest Poll: Bennet, Buck in Dead Heat, Tancredo Behind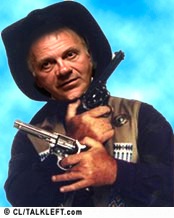 A new poll from the Denver Post and 9News have Sen. Michael Bennet and challenger Ken Buck in a dead heat. Three weeks ago, Buck was leading by five points.
In the Governor's race, Denver Mayor John Hickenlooper has a good lead on Tom Tancredo. The poll shows he's got more support than Tancredo and the Republican candidate, Dan Maes, combined. Results here.
Tancredo is ratcheting up the ads against both Maes and Hickenlooper. [More...]