Latest Poll: Bennet, Buck in Dead Heat, Tancredo Behind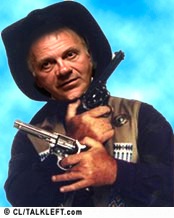 A new poll from the Denver Post and 9News have Sen. Michael Bennet and challenger Ken Buck in a dead heat. Three weeks ago, Buck was leading by five points.
In the Governor's race, Denver Mayor John Hickenlooper has a good lead on Tom Tancredo. The poll shows he's got more support than Tancredo and the Republican candidate, Dan Maes, combined. Results here.
Tancredo is ratcheting up the ads against both Maes and Hickenlooper. [More...]
Tancredo's campaign spent about $60,000 on the ads, which are airing more than a dozen times a day on some rural radio stations and some television stations.
If Maes, drops out this week, as Team Tancredo is asking him to do, will it help either Tancredo or Ken Buck? I doubt it will help enough for Tancredo, but if it causes more Republicans to vote, it could be a problem for Bennet.
This election will be close. Democrats really need to get out and vote.