AZ Execution Scheduled Using Foreign Made Drug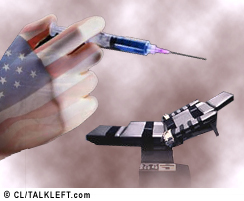 Update: The Arizona Supreme Court has denied the requests for a stay of execution and to produce information about the drug's origin. The ruling is here.
At a court hearing in Arizona today to stay the execution of Jeffrey Landrigan set for next Tuesday, the Arizona Attorney General admitted that the sodium thiopental it planned to inject into Landrigan was not made by Hospira, Inc., the one U.S. company authorized to manufacture it. In other words, it came from a foreign source.
His lawyers argue that using the drug sodium thiopental that has expired or was obtained from an unreliable source may not work correctly, potentially subjecting Landrigan to cruel and unusual punishment through death by suffocation.

They want the Supreme Court to order the state to disclose the source of the drug..... prosecutors said they can't identify the source because state law requires confidentiality for those involved with executions.
But, the prosecutor did acknowledge it didn't come from Hospira, which isn't currently producing the drug. And no other U.S. company is authorized to manufacture it. [More...]