Guantanamo Detainee Deaths: Suicides or Homicides?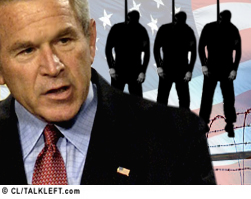 Via the Associated Press, a new article by Scott Horton in Harper's Magazine reports new, and if true, explosive findings on the deaths of the three Guantanamo detainees who allegedly committed suicide in their cells in 2006. Horton alleges the deaths may have been homicides.
Three Guantanamo Bay detainees whose deaths were ruled a suicide in 2006 apparently had been transported from their cells hours before their deaths to a secret site on the island, an article in Harper's magazine asserts.

...Harper's reported that the deaths of the three detainees, or the events that led directly to their deaths, most likely occurred at a previously undisclosed facility a mile or so from the main Guantanamo Bay prison complex.
[More...]