Scalia: Constitution Doesn't Recognize Claims of Innocence After Verdict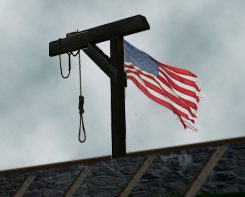 Via Left in Alabama, Justice Scalia had this to say about the Troy Davis case, in which he dissented from the majority which ordered Davis get a hearing on his innocence claim. Davis, you may know, has had one of the the most compelling claims of innocence in decades. According to Justice Scalia:
This Court has never held that the Constitution forbids the execution of a convicted defendant who has had a full and fair trial but is later able to convince a habeas court that he is "actually" innocent. Quite to the contrary, we have repeatedly left that question unresolved, while expressing considerable doubt that any claim based on alleged "actual innocence" is constitutionally cognizable.
Left in Alabama responds:[More...]