Paper reports Scapel Used on Tortured Gitmo Detainee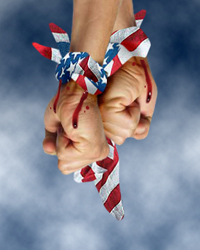 Via Think Progress, the Independent reports on the details of Binyam Mohamed's torture and the lines left out of the report:
The 25 lines edited out of the court papers contained details of how Mr Mohamed's genitals were sliced with a scalpel and other torture methods so extreme that waterboarding, the controversial technique of simulated drowning, "is very far down the list of things they did," the official said.

Another source familiar with the case said: "British intelligence officers knew about the torture and didn't do anything about it. They supplied information to the Americans and the Moroccans. They supplied questions, they supplied photographs. There is evidence of all of that."
Tell us again, Ex-President Bush, the United States Does Not Torture. Memo to President Obama: Release these documents. As the ACLU said today, don't hide behind Bush's state secrets claim. [More...]
"Eric Holder's Justice Department stood up in court today and said that it would continue the Bush policy of invoking state secrets to hide the reprehensible history of torture, rendition and the most grievous human rights violations committed by the American government. This is not change. This is definitely more of the same. Candidate Obama ran on a platform that would reform the abuse of state secrets, but President Obama's Justice Department has disappointingly reneged on that important civil liberties issue. If this is a harbinger of things to come, it will be a long and arduous road to give us back an America we can be proud of again."

The following can be attributed to Ben Wizner, a staff attorney with the ACLU, who argued the case for the plaintiffs:

"We are shocked and deeply disappointed that the Justice Department has chosen to continue the Bush administration's practice of dodging judicial scrutiny of extraordinary rendition and torture. This was an opportunity for the new administration to act on its condemnation of torture and rendition, but instead it has chosen to stay the course. Now we must hope that the court will assert its independence by rejecting the government's false claims of state secrets and allowing the victims of torture and rendition their day in court."