Paper reports Scapel Used on Tortured Gitmo Detainee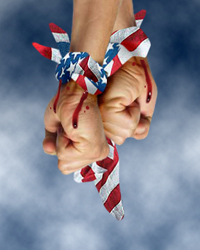 Via Think Progress, the Independent reports on the details of Binyam Mohamed's torture and the lines left out of the report:
The 25 lines edited out of the court papers contained details of how Mr Mohamed's genitals were sliced with a scalpel and other torture methods so extreme that waterboarding, the controversial technique of simulated drowning, "is very far down the list of things they did," the official said.

Another source familiar with the case said: "British intelligence officers knew about the torture and didn't do anything about it. They supplied information to the Americans and the Moroccans. They supplied questions, they supplied photographs. There is evidence of all of that."
Tell us again, Ex-President Bush, the United States Does Not Torture. Memo to President Obama: Release these documents. As the ACLU said today, don't hide behind Bush's state secrets claim. [More...]