Suicidal Gitmo Detainee Needs Help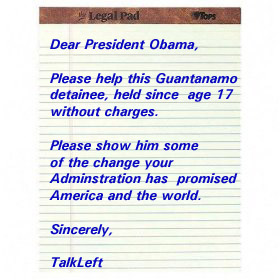 Mohammed Khan Tumani of Syria was 17 when captured and brought to Guantanamo 7 years ago. No charges have been filed against him. His lawyers today filed a motion for emergency relief in the case of Khan Tumani v. Obama.
The Center for Constitutional Rights filed the motion on his behalf. They are seeking an independent psychiatric and medical evaluation of Khan Tumani, access to his medical records, an end to his placement in solitary confinement and abusive interrogations, and access to his father who is also held at the camp.
Tumani recently tried to commit suicide. Read the details below: