Killing While Ambien'ed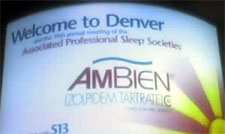 We've had Driving While Ambien'ed, Eating While Ambien'ed (more here) and now, there's Killing While Ambien'ed.
Some stats here. Lots of people take Ambien. Colin Powell once responded to a reporter, "You don't use Ambien? Everybody here uses Ambien."
Drinking and Ambien are known to cause problems. I wonder if anyone has studied whether Toking while Ambien'd also causes problems? Maybe the makers of Ambien could fund one with the $800 million (pdf, p. 85) in sales generated in 2008 from the sleeping aid. Maybe it's the alcohol and not the Ambien that's the problem.