Obama Circulates Draft Order Allowing a Year to Close Gitmo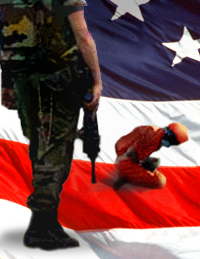 Bump and Update
: The Obama Administration is circulating a draft of an executive order allowing for up to a year to close Guantanamo. As the
Center for Constitutional Rights
says, that's too long.
It only took days to put these men in Guantanamo, it shouldn't take a year to get them out. We are proud that President Obama made addressing Guantánamo one of his first acts in office. Yet we are disappointed that he outlined no concrete steps for closing the base and gave his administration an entire year to sort out its plans – meaning that some men could have been detained indefinitely in terrible conditions for eight full years. Surely he could do better.
[More...]
President Obama should commit to dismantling the military commissions, not just suspending them, and to prosecuting any cases before federal criminal courts – real courts with real laws.
****
Original Post: How to Close Guantanamo
The ACLU has submitted a five step plan (pdf)to the Obama administration for closing Guantanamo. A component of it is ending the show trials created pursuant to the Military Commissions Act.
You can read their plan here (pdf). The final appendix to the plan contains a list of all of the detainees still held at Guantanamo, and their country of origin.
In response to the military judge's granting of the prosecutor's motion today (pdf) to suspend the military tribunal proceedings for 120 days while Obama studies what to do, the ACLU responds:
"On Day One, President Obama kept his promise to halt the unconstitutional military commissions by ordering the prosecution to seek a 120-day suspension. Had the proceedings continued, the Bush administration would have permanently tied his hands and stopped him from being able to fulfill a top level campaign promise. Within the next 120 days, we trust that the President's team will be studying and finalizing plans and a timeline for permanently closing Guantánamo, shuttering the military commissions and ensuring justice is served in the best of American traditions.

President Obama's 'time out' comes at the perfect time in these shameful military commissions and shows he means business on Day One. President Obama has to restore an America we can be proud of again by once and for all shutting down Guantánamo and its shameful military commissions."

On Monday, the ACLU delivered to the Obama transition team its comprehensive plan to close Guantánamo and handle the remaining detainees. The plan was sent to White House Counsel Gregory Craig, Attorney General designate Eric Holder, Secretary of State designate Hillary Clinton and Secretary of Defense Robert Gates, among others, to be considered alongside the Department of Defense proposal commissioned by Secretary Gates.