Waas: Alberto Gonzales Turns on Bush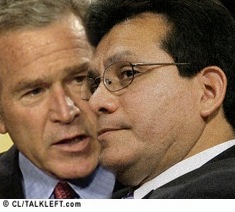 Murray Waas has a new article in the Atlantic on the infamous Ashcroft hospital visit during which the ailing Ashcroft was pressured to sign off on Bush's warrantless electronic surveillance plan. Murray says:
"According to people familiar with statements recently made by Gonzales to federal investigators, Gonzales is now saying that George Bush personally directed him to make that hospital visit. "
More...