Joe Lieberman Shills for McCain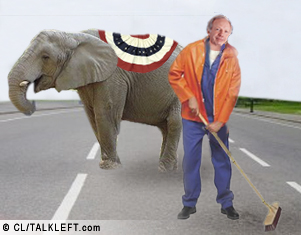 Is anybody watching this charade? He even has the nerve to call himself a Democrat.
Update: He says Obama isn't right for the job because he has no record. And Sarah Palin, who would step into the Presdency should anything happen to John McCain? Please.
Now Lieberman is praising Sarah Palin, calling her a great lady. She's a reformer. She is a leader we can count on to help John shake up Washington. What about counting on her if she has to take over as President? He can't address that. All he can do is steal Obama's message of change.