Arguments Heard in Appeal of Larry Craig Bathroom Sting Conviction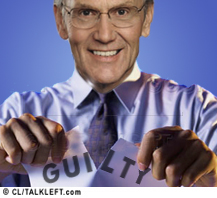 The Minnesota Court of Appeals today heard oral arguments in Sen. Larry Craig's appeal of the denial of his motion to vacate his guilty plea for foot-tapping in an airport bathroom stall to the Minnesota Court of Appeals.
The attorney, Billy Martin, told the three-judge panel that Craig's behavior was "as consistent with innocence as it is with guilt."
More...