Labor Day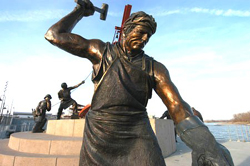 Today is Labor Day. If you aren't familiar with its origin and history, here's a primer.
The observance of Labor Day began over 100 years ago. Conceived by America's labor unions as a testament to their cause, the legislation sanctioning the holiday was shepherded through Congress amid labor unrest and signed by President Grover Cleveland as a reluctant election-year compromise.
On the first Labor Day parade: [More...]
On September 5, 1882 the first Labor Day parade was held in New York City. Twenty thousand workers marched in a parade up Broadway. They carried banners that read "LABOR CREATES ALL WEALTH," and "EIGHT HOURS FOR WORK, EIGHT HOURS FOR REST, EIGHT HOURS FOR RECREATION!" After the parade there were picnics all around the city. Workers and celebrants ate Irish stew, homemade bread and apple pie. At night, fireworks were set off. Within the next few years, the idea spread from coast to coast, and all states celebrated Labor Day. In 1894, Congress voted it a federal holiday.
And then there's the story of Joe Hill.
And for a song: The Rolling Stones (with Axl Rose), Salt of the Earth