Razor Wire Won't Top Makeshift Convention Jail Cells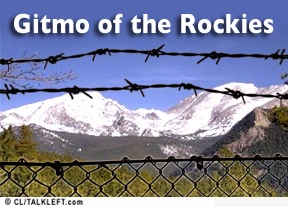 Who knew what they were thinking when they built the makeshift warehouse jail cells for those arrested during the Democratic National Convention, but at least they've scrapped one bad idea.
The razor wire covering the cells is being removed. Chain link fence coverings will be used instead. Also:
Sixty people an hour can be processed at the building, where cameras are set up to take mug shots alongside computerized fingerprinting stations.

A table holds six telephones, and two portable air-conditioning units each the size of a small truck pump cool air into the building. Each cell will contain 20 chairs. A sign posted on a steel column warns: "Electric stun devices used in this facility."
Anyone arrested in East Denver, not just protesters, will be transported to "Gitmo on the Platte."