Federal Judge Rules Against Bush on Wiretapping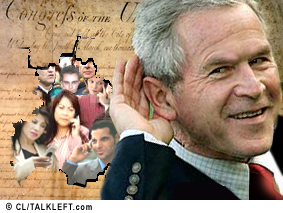 A federal judge in California Wednesday ruled that Bush's warrantless electronic surveillance runs afoul of FISA:
"Congress appears clearly to have intended to — and did — establish the exclusive means for foreign intelligence activities to be conducted," the judge wrote. "Whatever power the executive may otherwise have had in this regard, FISA limits the power of the executive branch to conduct such activities and it limits the executive branch's authority to assert the state secrets privilege in response to challenges to the legality of its foreign intelligence surveillance activities."

Judge Walker's voice carries extra weight because all the lawsuits involving telephone companies that took part in the N.S.A. program have been consolidated and are being heard in his court.
The opinion is here (pdf). [More...]
The case involved an Al-Haramain, an Oregon Charity that alleged it was subjected to NSA warrantless surveillance.
The Justice Department has tried for more than two years to kill the lawsuit, saying any surveillance of the charity or other entities was a "state secret" and citing the president's constitutional power as commander in chief to order wiretaps without a warrant from a court under the agency's program.
But Judge Walker, who was appointed to the bench by former President George Bush, rejected those central claims in his 56-page ruling. He said the rules for surveillance were clearly established by Congress in 1978 under the Foreign Intelligence Surveillance Act, which requires the government to get a warrant from a secret court.
The impact of the ruling:
The ruling comes as the Senate is overhauling the foreign intelligence law. The measure would reaffirm FISA as the exclusive means for the president to order wiretaps through court warrants, but it would also provide legal immunity to phone companies involved in the eavesdropping program. A vote could come Tuesday.

The immunity issue would not directly affect this lawsuit because Al-Haramain is suing the government, not the phone companies. But the nearly 40 other lawsuits against phone companies that Judge Walker is overseeing would almost certainly have to be dismissed if immunity is signed into law, legal analysts say.