Could Miami's "Little Havana" Turn To Obama?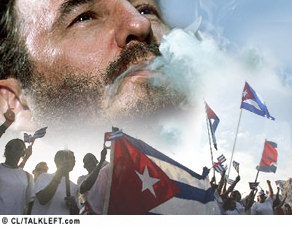 Miami's large Cuban population, often referred to as "Little Havana" has always been predominantly Republican. Sunday's New York Times Magazine has a five page article questioning whether Cuban support in Miami might shift and vote Democratic in November. Primarily it examines some Democratic challenges to traditionally Republican House seats in Florida, But it also touches on the Presidential election.
Backstage, something very new is happening. Call it the Miami Spring, or Cuban-American glasnost. This community that has clung for decades to its certainties — about the island itself, about the role the exile community would play after the Castro brothers passed from the scene, about where Cuban-Americans should situate themselves in terms of U.S. domestic politics — is in ferment. This matters not only in terms of the destiny of the Cuban-American community itself but also in terms of the 2008 elections since, despite claims made on background by some of Barack Obama's advisers, Florida is likely to play a pivotal role in determining whether Obama or John McCain becomes president, and the Cuban-American vote is likely to play its usual outsize role in deciding which candidate prevails in the state.
The Times recounts Obama's May speech in Miami seeking the Cuban vote. The Times reports:[More...]