Marine Acquitted in Charges Related to Haditha Killings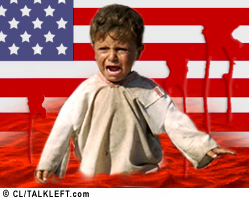 1st Lt. Andrew Grayson was acquitted yesterday by a military juy on charges he covered up information from the Haditha killings.
He was accused of telling a sergeant to delete photographs of the dead from a digital camera and laptop computer.

Grayson, of Springboro, Ohio, was acquitted of two counts of making false official statements, two counts of trying to fraudulently separate from service and one count of attempt to deceive by making false statements. He would have faced as many as 20 years in prison if convicted of all counts.
Grayson was the first to go to trial. Other trials will follow. [More...]