Florida 's First Execution Since Botched One Set For Tuesday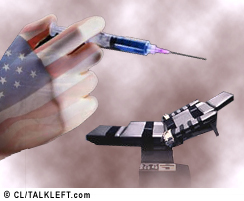 On December 13, 2006, Angel Diaz of Puerto Rico was executed by lethal injection in Florida. It took 34 minutes to kill him.
An autopsy later revealed that the IVs inserted into Diaz were faulty, the drugs were injected into his tissues, not his veins, and they also were released in the wrong order so that Diaz received the last, painful drug before he should have. The autopsy revealed a foot-long chemical blister in his body tissue.
Gov. Jeb Bush ordered an investigation and a moratorium on executions ensued. Fast forward to Tuesday when Florida will resume killing inmates by lethal injection. [More...]