Schapelle Corby "Ganja Queen" Airs on HBO June 30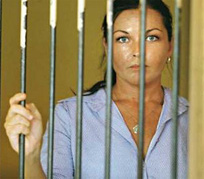 Since 2005, I've been following the case of Australian Schapelle Corby, sentenced to 20 years in an Indonesian hellhole of a prison for allegedly smuggling 10 pounds of pot into Bali in a boogie board on a vacation, despite some evidence the pot was planted, possibly by a ring of airline baggage handlers, although that theory has since been discredited.
Her story will be told in Ganja Queen, airing on HBO on Monday, June 30.
Ganja Queen is the harrowing story of Schapelle Corby, a young Australian woman who is accused of international drug trafficking after ten pounds of marijuana are found in one of her bags while on holiday in Bali. Proclaiming her innocence, she finds herself locked in a life-and-death courtroom battle. The film is a chilling reminder of the risks all travelers take when visiting countries with vastly different criminal justice systems and cultural mores.
On Friday, Schappelle was taken from the prison to an Indonesian hospital where she is on a suicide watch. Her last appeal was denied in March. [More...]
Here is a clip from Ganja Queen:
Here is Schapelle's official website.
Schapelle has always maintained her innocence. Here are the facts she presents to support her assertion:
Schapelle checked in her bag at Brisbane airport and neither she, nor her travelling companions, had any contact with it until after it arrived in Bali.
Schapelle's travelling companion's luggage and Schapelle's own luggage were also never searched.
Neither the Indonesian nor the Australian governments wanted to, or did investigate this case. There was no investigation into where or how Schapelle intended to sell the marijuana, if indeed the Bali police truly believed her guilty.
The Bali Police refused to analyse the marijuana that convicted her. Hair from those who grew it would be in the resin. They didn't want anyone to investigate. Later, this marijuana was destroyed, obliterating any chance it could be used to acquit Schapelle.
She likes to get letters. You can write to her at:
Schapelle Corby C/- LPM Kerobokan Jl.
Tangkuban Perahu Kerobokan,
Denpasar 80117 Bali, INDONESIA