Texecutions Resume With Huge Last Meal Request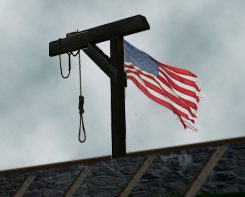 Karl Chamberlain was executed in Texas tonight, the first texecution since the Supreme Court ruled the three drug lethal injection cocktail does not violate the Constitution's ban on cruel and unusual punishment.
It took 9 minutes to kill Chamberlain. He made a last statement which included:
"I am so terribly sorry. I wish I could die more than once."
Chamberlain ordered the largest last meal of any death row inmate in Texas history. [More...]
Here's what he ordered, and Texas officials said they would do their best to provide it:
_Fresh fruit tray (as many different fruits as possible), fresh orange slices, apples, sliced watermelon, honeydew melon, cantaloupe, peaches, plums, grapes, strawberries.

_Fresh vegetable tray with carrot sticks, celery, two tomatoes-sliced, lettuce, cucumber slices, olives, sweet pickles and any other fresh vegetables.

_Slices of cheese and lunchmeat. Serve with a bowl of ranch dressing, two deviled eggs; six jalapenos stuffed with cheese, breaded and fried.

_A chef salad, ranch dressing on the side.

_A plate of onion rings, ketchup and hot sauce on the side.

_One half-pound of french fries, covered with melted, shredded cheese, salsa, jalapenos and ranch dressing on the side.

_A bacon double cheeseburger, smothered with grilled onions, three to four slices of cheese and mayonnaise with garlic and onion powder mixed in.

_Two pieces of fried chicken, breasts preferred, or substitute two thighs and two legs.

_One bean and cheese quesadilla, salsa and jalapeno to the side. Sour cream or guacamole if possible.

_A three-egg omelet with grilled onions, mushrooms, ham and lots of cheese. Ketchup to the side.

_Two barbecue pork rolls.

_A pitcher of orange juice (only a little ice).

_A pitcher of milk.

_No dessert.
What if it had taken him until tomorrow to eat all this, could they still have executed him? Probably yes. I'm not sure what to make of the meal request other than to be pleased that at least he didn't die hungry.
[Hat tip to Rev. Mr. George Brooks J.D.]