Hillary's Position on Counting Florida and Michigan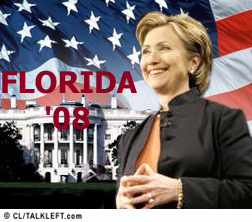 Hillary Clinton has no secret plan to seat the Florida and Michigan delegates. She's been totally transparent on her efforts to seat both delegations. Here's her plan, according to her campaign on May 4:
There is no secret plan. In fact, this story misrepresents the process laid out in the DNC rules for resolving the questions surrounding the seating of the Michigan and Florida delegations.

The Clinton campaign has been vocal in stating that the votes of 2.5 million people must be respected. Hardly a day goes by when a Clinton official doesn't publicly declare that the votes of Michigan and Florida count and that the delegations from those states should be seated.
More...