Conyers Ready to Kick Rove's As*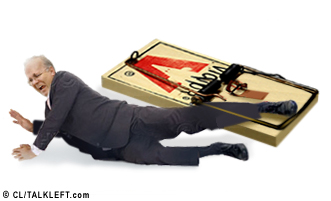 Do you suppose we'll ever have the pleasure of watching Karl Rove do the perp walk?
Just off the House floor today, the Crypt overheard House Judiciary Chairman John Conyers tell two other people: "We're closing in on Rove. Someone's got to kick his ass."

Asked a few minutes later for a more official explanation, Conyers told us that Rove has a week to appear before his committee. If he doesn't, said Conyers, "We'll do what any self-respecting committee would do. We'd hold him in contempt. Either that or go and have him arrested."
The bolded option would be a satisfying outcome.