Hillary Wins PA By 10 Points, More Than 200,000 Votes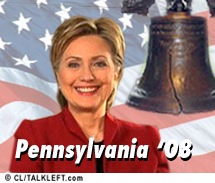 Hillary has broken the 200,000 vote margin with 93% of the Pennsylvania vote in.
Her campaign raised more than $2,500,000. since the polls closed. (Via John King on CNN, who received the information from her campaign.)
Obama's Indiana party was slow, there were empty seats.
Obama got trounced in the rural counties and by blue collar Dems and Reagan/Casey Dems, by Catholics, women, older voters, religious voters and gun owners.[More...]