Hillary's Victory Speech in Philadelphia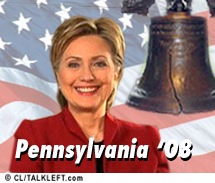 Update: Hillary Clinton raised $500k on her website in the first hour after the polls closed. If you want to help her, head on over to HillaryClinton.com
Hillary Clinton is about to speak at a rally in Philadelphia. I'll be live-blogging here.
Ed Rendell is warming up the crowd. Mayor Nutter is speaking. Time for the introduction.
Here she comes. She's in green. She hugs the Mayor of Philly. She's jubilant. Bill and Chelsea and her mother are there too. Bill is behind her as she begins to speak.
Hillary: Thank you very much. Oh, thank you. It's a long road to 1600 Penn. Ave and it runs right through the heart of PA. For six weeks Obama and I have criss-crossed the state making our best case. You listened and today you chose.
More...
The possibilities are endless if we get to work and roll up our sleeves with a president who's ready to lead on day one.
Crowd changes "Yes she can."
Ready to take charge as Commander in chief and get economy going. I promise you I can be that President.
She talks about her father and grandfather. It's because of them that she's here.
I'm in this race to fight for you. Huge cheers. To fight for everyone who's ever been counted out, who can't pay their hospital bills and medical bills and is challenged by the high cost of gas.
You know you can count on me to stand up strong for you every single day in the White House.
She commends Obama and his supporters. "We are on this journey together."
Talks about those who want to see a woman in the White House. The message it sends to little girls, you can be anything you want.
I need your help now more than ever. Your support has meant the difference between winning and losing. Go to Hillary Clinton.com so we can keep competing. Show your support tonight. The future of this campaign is in your hands.
Some people said she should drop out. She doesn't quit. The people deserve a champion who won't quit.
Soldiers fighting overseas: You deserve a cic who will bring you home. And take care of our veterans.
Because of you the tide is turning. We were up against a formidable opponent who outspent us 3:1. The people of PA had other ideas. The presidency is the toughest job in the world. The pressures of the campaign is nothing compared to the pressures of the White House.
After 7 years of Bush, we have our work cut out. We don't have a minute to waste. We need to stop talking about our problems and solve them.
She moves on to issues. Economy, energy. Health care, college, improvement public schools. End the war on science. Renewed commitment to science and research. We will tackle everything from alzheimers to diabetes.
We look forward to discussing these issues in Indiana and NC and all the states we will visit in the coming weeks.
Tells a story about someone who wrote a note, Hillary Clinton, keep fighting for us. That is what I am going to do because America and you are worth fighting for.
I grew up taking for granted that women can vote. Chelsea grew up taking for granted that African American children could attend school together. The next generation will take for granted that a woman or an African American can be a President.
She gives thanks to Rendell, Nutter and others. Congresspeople and 100 mayors. She thanks labor unions for standing with her.
I especially want to thank my family for their incredible love and support. Bill and Chelsea have criss-crossed PA. Her brothers and mother.
We have a lot of work ahead of us. But if you're ready, I'm ready. I might stumble and fall down, but if you'll stand with me, I'll always get right up. Let me ask you: Will we once again be the nation that breaks down the barriers and leads by our ideals? Will we take back the White House. We will turn promises into action. Yes we will. Thank you and G-d bless you.
It's over. Chris Matthews says it's a great speech. Obama will be speaking soon, I'll start a new thread for it.
Update: No negativity, no criticism of Obama, no mention of electabilty. Just "I will fight for you." It was a very positive speech.