Hillary's Victory Speech in Philadelphia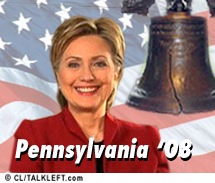 Update: Hillary Clinton raised $500k on her website in the first hour after the polls closed. If you want to help her, head on over to HillaryClinton.com
Hillary Clinton is about to speak at a rally in Philadelphia. I'll be live-blogging here.
Ed Rendell is warming up the crowd. Mayor Nutter is speaking. Time for the introduction.
Here she comes. She's in green. She hugs the Mayor of Philly. She's jubilant. Bill and Chelsea and her mother are there too. Bill is behind her as she begins to speak.
Hillary: Thank you very much. Oh, thank you. It's a long road to 1600 Penn. Ave and it runs right through the heart of PA. For six weeks Obama and I have criss-crossed the state making our best case. You listened and today you chose.
More...