Obama Decides on Olympic Stance: Calls for Bush to Boycott Opening Ceremonies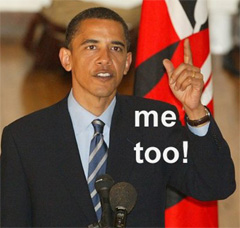 Once again, Obama takes a cue from Hillary Clinton.
Last Wednesday, April 2: Obama says he's conflicted on Olympics
"I am of two minds about this, ...On the one hand, I think that what has happened in Tibet, China's support for the Sudanese government in Darfur, is a real problem." Still, Obama said, "I am hesitant to make the Olympics a site of political protest because I think it's partly about bringing the world together."
Monday, April 7, Hillary Clinton calls for Bush not to attend the opening ceremonies.
I believe President Bush should not plan on attending the opening ceremonies in Beijing, absent major changes by the Chinese government.
This Wednesday, April 9: Obama says to put boycott of Olympic opening ceremonies on the table.
"If the Chinese do not take steps to help stop the genocide in Darfur and to respect the dignity, security, and human rights of the Tibetan people, then the President should boycott the opening ceremonies.
Comments now closed.