Wyoming Democratic Caucus: Obama Wins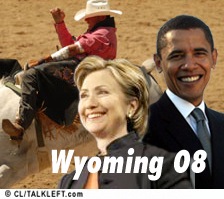 Final Update: 100% now in, Teton went for Obama, final delegate count, Obama 187.5, Hillary 129.5, Uncommitted 2.
Update: Obama wins Sheridan, only Teton left, and that should go to Obama as well.
Update: Last five caucus results now coming in. Hillary wins Weston County. Obama won Big Horn and Johnson. Only Sheridan and Teton are left. The delegate count is now at 160 for Obama, 116 for Hillary, 2 uncommitted. Again, these are delegates to the state convention to be held in late May. CNN now projects Obama to win. Sheridan has 18 delegates and Teton has 17. The caucus ends at 6pm MT in Sheridan. (A 4 hour caucus?)
Update: I think I've found the answer as to why the race hasn't been called by CNN, thanks to McJoan and Pocket Nines at Daily Kos. Four counties start caucusing in 5 minutes at 2:00 pm MT. One starts at 3pm. That's it for me, I'm willing to call Wyoming an Obama win.
Official Wyoming caucus results will be here. They will also appear on CNN's page here. [More...]