Wyoming: Lots of Excitement for a Republican State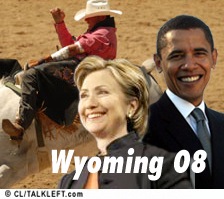 Wyoming caucuses convene tomorrow morning. 12 delegates are at stake. Hillary, Bill, Chelsea and Barack Obama all have campaigned there this week, with Hillary and Obama each making two appearances today.
Denver's Rocky Mountain News had reporters live-blogging the appearances all day and evening.
They drew large crowds and while Obama is expected to win the caucus vote, Hillary should make a decent showing.
One joke Obama didn't tell today: the one about Cheney being his cousin. A story about Hillary that did come out through one of those introducing her: Hillary has eaten reindeer.
Wyoming is pure Cheney country. The chances of the Dems taking it in November are nil. But, it's exciting to see both Hillary, Obama, Bill and Chelsea in western mode.
Update: The reindeer story below: